Italian pornstar Valentina Nappi interracial fun, a hot double penetration with two huge dicks.
Valentina Nappi interracial:Valentina is a sexy Italian that just can't seem to find her way around these mean streets. Enter Rico Strong and Wesley Pipes. Valentine is on a search for two "Black Towers" and that plants the seeds for Rico and Wesley to show their true colors. Valentina is taken back to the crib and she really does encounter two black towers…..that is, two big black cocks!
The Italian slut forgets about her earlier dilemma in favor for the task at hand: Getting both big black cocks to ravage all her holes. Rico and Wesley give that European fuck toy more than a mouthful of black meat.
Valentina's throat reaches capacity when the base of a black cock reaches the outskirts of her mouth. The time for insane interracial fucking really gets going when both black guys occupy her ass and pussy….at the same time!
Our version of Black Towers nearly cause her ass and pussy to cave in from the constant, intense friction, and, as a result, she's feeling what American black cock is all about. The interracial double penetration fun turns into mayhem, which turns into a couple of popshots that the Italian fuck pig warmly welcomes. Who says there are no longer any good citizens out there willing to lend a helping hand?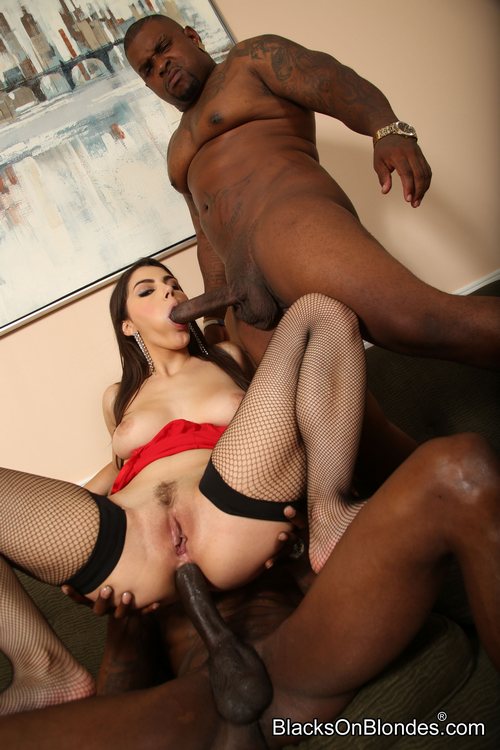 Wanna see other galleries performing Valentina Nappi? Go here
Other galleries from Blacksonblondes: Here
BlacksOnBlondes.com features the most outrageous Interracial Content known to man. From our flagship site; BlacksOnBlondes.com 100% original and exclusive content for the greatest retaining website of all time!